Established in 2012, Success Electric Pte Ltd manufactures quality control and power switchboards for diverse sectors in Singapore and various overseas projects.
With more than 30 years of experience in the industry, our team possesses the expertise and technical know-how to provide complete solutions through our wide range of products. We are able provide our customers with the best advices and electrical solutions on the switchboards with our years of experience and technical knowledge in the switchboard manufacturing line.
We provide electrical switchgear ranging from main switchboard, emergency board, consumer unit distribution board, temporary supply board to Uninterruptible Power Supply (UPS) power board. We also provide control panels for Air Conditioning and Mechanical Ventilation System (ACMV), Plumbing and Sanitary System, Fire Pump System, Refuse Chute System and Machinery Control Systems.

Our Vision
To be a Key Electrical Solutions Provider in Asia
Our Mission
To be a key electrical switchgear provider in the region by providing superior quality products through our technical expertise together with our responsive, flexible and cost efficient solutions to ensure total customer satisfaction.
Our Commitment
We are committed to satisfy all our customers' requirements promptly and efficiently. With our experienced designing and engineering team, we are able to provide our partners with the most cost efficient and high quality products. We not only aim to provide our partners with the quality products but also to deliver an utmost service by providing our partners with optimal solutions.
Over the years, we forged strong relationships with our clients and our products are used in private residential properties, hotels, commercial/industrial buildings and factories.
We believe that we will be your prominent partner towards success.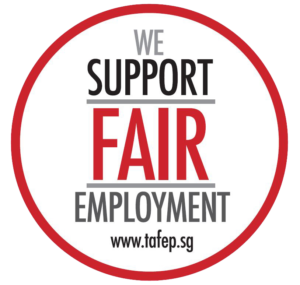 The Employers' Pledge of Fair Employment Practices is an initiative by the Tripartite Alliance for Fair Employment Practices (TAFEP). The pledge signing reaffirms our commitment to recruit, develop and reward our staff based on individual merits. We are committed to a Fair and Non-Discriminatory Practices to promote an inclusive workplace – one that is built on merit and progressive HR practices. This principle of fair opportunity enables us to widen our reach to attract and retain the best candidates.
Our Accreditation
bizSAFE is a programme which assists companies to build up their workplace safety and health (WSH) capabilities in order to achieve higher safety and health standards at the workplace. As a bizSAFE3 certified organisation, we are committed towards workplace safety for all our stakeholders – including our staff, customers and business partners.